The CIMC Movement: Creating Positive Change for Native Communities
The California Indian Manpower Consortium, Inc. has been designated as a Census Information Center by the U.S. Census Bureau. The Census Information Center (CIC) Program began in 1988 as a joint venture between the U.S. Census Bureau and the National Urban League, a New York City based nonprofit organization. This founding, joint agreement between the Census Bureau and the National Urban League has since grown to include five "lead" nonprofit organizations and 47 nonprofit organizations nationwide.

The purpose of the CIC Program is to make census information and related data more accessible to the under-served, minority, and lower income communities. The CIC is also responsible for presenting the Census Data in ways that are easier for their constituents to access and understand. CICs assist the communities they serve in obtaining specific, detailed information pertinent to their needs. This information comes from customized research and data tabulations, producing profiles or comparisons, and creating maps and tables that contain specific results.

The CIC acts as a valuable mediator between the U.S. Census Bureau and the communities they serve. Being a community based organization, the CIC is able to stress the importance of participating in the data collection methods used by the Census Bureau.

The information gathered through the Decennial Census, the American Community Survey, the Economic Census, and other Census Bureau research methods play a major role in community and government decisions regarding program planning, policy development, needs assessment, and the allocation of federal funds.

What is the Decennial Census?

• The census is a count of everyone living in the United States every 10 years.

• The census is mandated by the U.S. Constitution.

• The next decennial census is April 1, 2030.

• Your participation in the census is required by law.

• Federal law protects the personal information you share during the census.

• Census data is used to distribute Congressional seats to states, to make decisions about what community services to provide, and to distribute over one billion dollars in federal funds to Indian Country each year.
---
CENSUS 2020
Self-response and field data collection operations for the 2020 Census ended on October 15, 2020.
CIMC Census 2020 Project Report - released March 27, 2021
CIMC California Complete Count - Census 2020 Project | #NativePeopleCount
(916) 920-0285 | (800) 640-2462 | TTY: (800) 748-5259 | FAX: (916) 641-6338
California Indian Manpower Consortium, Inc. (CIMC) is funded in part by the U.S. Department of Labor.
CIMC is an Equal Opportunity Employer/Program. Auxiliary aids and services are available upon request to individuals with disabilities.
For information about CIMC events,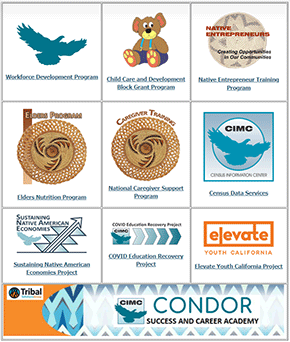 National Caregiver Support Program
Community Services Block Grant Program
Child Care and Development Block Grant Program
Tribal Business Export Development Program
Native Entrepreneur Training Program
Elevate Youth California Project
COVID Education Recovery Project
Sustaining Native American Economies Project
---
---
Join our Mailing List:

CIMC Condor Connection Newsletter Archive
Download: Newsletters (pdf)